"Sif es Souan – Les Grandes Dunes de Tunisie"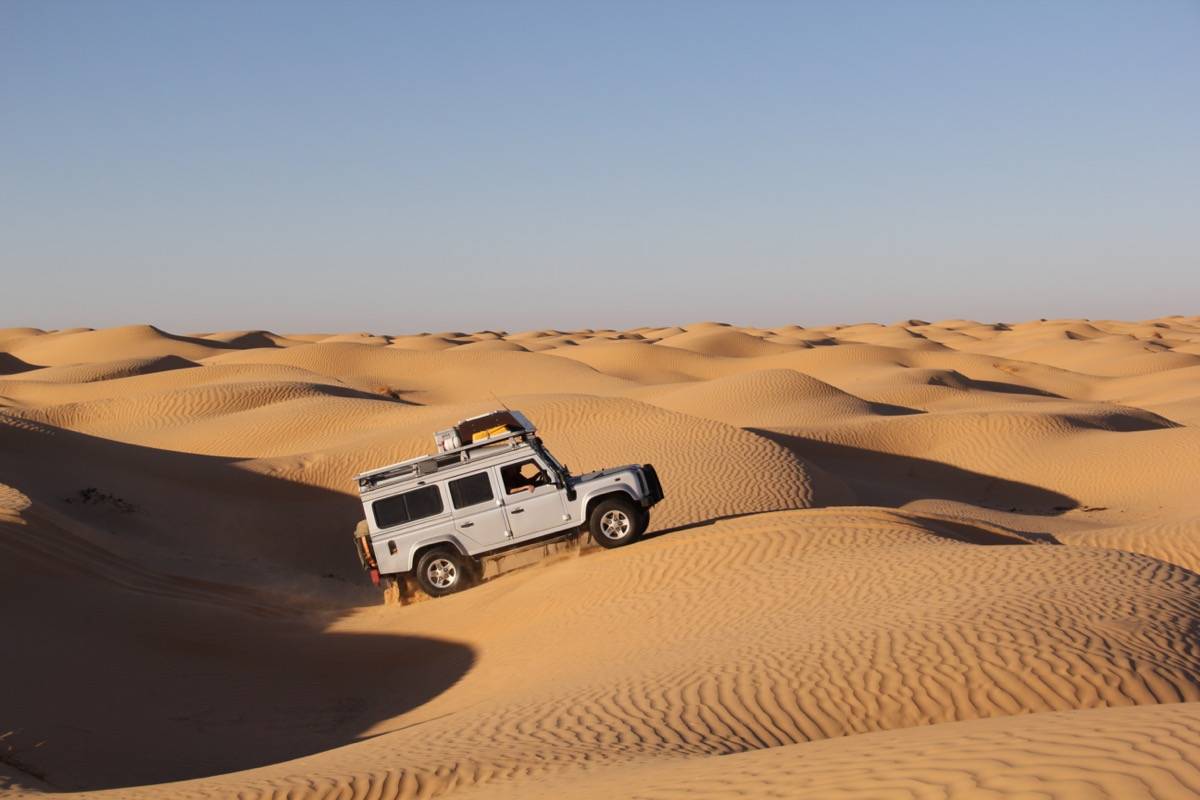 Pure driving fun awaits us through endless dune landscapes, which demand everything from us and our vehicles.
Experience an unforgettable desert adventure on one of our most challenging tours.
Tour description:
Desert Extreme!
After our joint ferry crossing from Genoa to La Goulette / Tunis we spend one night in a very good hotel in Tunis or Hammamet before we head via highway directly to the south of the country to Es Sabria, where we fill our vehicles and jerry cans with fuel for the last time before we set off on the great adventure "Sif es Souane". Endless dune landscapes await us, which demand everything from us and our vehicles.
The beginning of our journey takes us through the fine sand dune landscapes of Sablazett. Sand, white and fine as powdered sugar, welcomes us at the start of this magnificent eight-day ride on the dunes.
In the next few days our path is determined by the course of the dunes. Only a rough direction is given to us…always further it pulls us in southern direction. Our days are marked by finding the best way through endless sand hills. Our ride is like surfing on waves of sand. There is no predefined route. Pure driving fun! On the way, with a little luck, we will meet Algerian desert nomads with their camels and learn something about their way of life in this endless sea of sand and rubble, which is so unknown to us.
Mehr erfahren...
Our on-site team consists of experienced desert guides, cooks and a mechanic. Every evening we set up a large tent and are provided with freshly cooked dinner and breakfast. This allows us to keep the supplies in our vehicles small and saves weight. An unbeatable advantage on this demanding tour through the foothills of the Grand Erg Oriental.
About halfway through the tour, we slowly loop around and head back north. In the evening of the eighth day we reach again our camp in Es Sabria. Before we slowly make our way towards Tunis, we spend some time in Douz, the gateway to the Sahara, to drink a cup of tea, watch the hustle and bustle for a while or buy one or the other souvenir. Here everyone can prove their negotiating skills again …….
This trip, due to its nature, places different demands on vehicle and equipment than on our other trips. Precisely because we will be self-sufficient in the desert for eight days, a much more precise travel preparation is necessary here. In order to discuss all requirements in advance, an extensive initial telephone contact with us is mandatory for this tour. Of course, after booking, you will receive detailed checklists from us, which are contained in the travel documents and are intended to make travel preparations easier for you.
We expressly point out that the trip offered here is desert extreme and vehicles and drivers, must necessarily bring a corresponding suitability. An optimal preparation for this tour, would be a previous participation in our Desert Pure Tour to the Lost Lake. We largely refrain from sightseeing in any form. Adventure dunes, driving in the sand, silence and a breathtaking starry sky are definitely in the foreground here.
We look forward to welcoming you on this sand-tastic tour. Dive into the adventure of Sahra with us …
… your team from NPL-Overland.eu!
Weniger lesen...
"Sif es Souan – Les Grandes Dunes de Tunisie"
*The travel dates may still change slightly, depending on the ferry connection.