"Serbia's Green Hiding Places"
Wild camping season start tour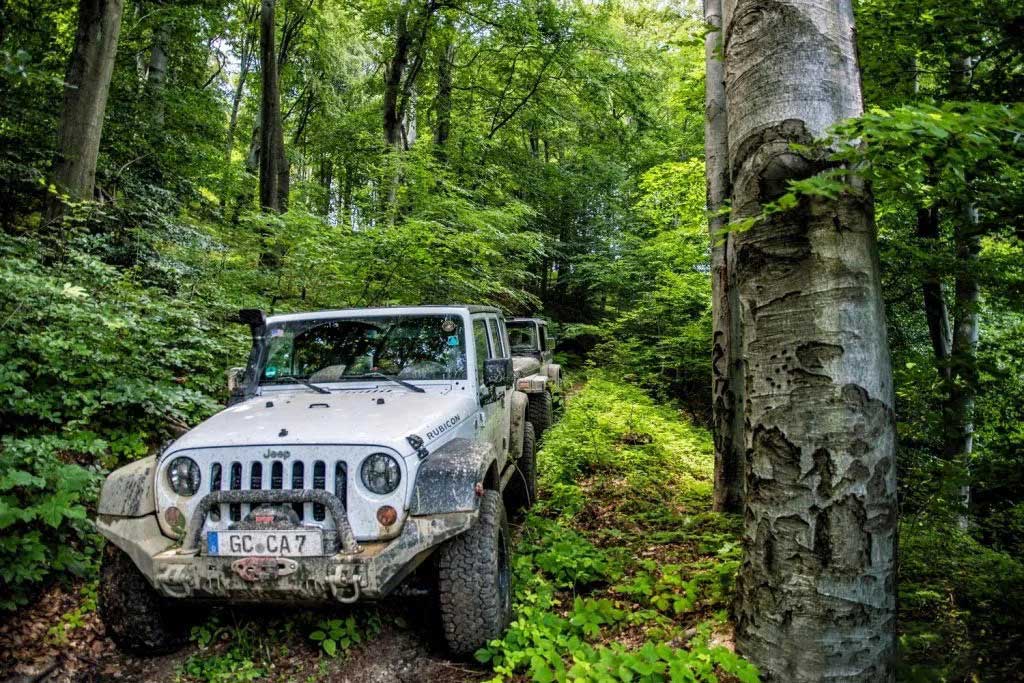 Make the most of the blooming spring in May! At this time of year, the higher mountains are still cold and partially covered with snow, but the endless expanses of the low Serbian Carpathians (northeastern Serbia) are already strikingly green and warm – ideal for opening the camping season in a joyful and powerful way.
Tour description:
Wild camping tour through the unforgettable natural landscape of the Serbian Carpathian Mountains
This is a complete chillout tour where we will make our way through undisturbed wilderness between some of the most beautiful, well hidden, secret wild campsites of the Homolje and Kučaj mountains. We will move our four-wheel drive vehicles over mountain ridges full of colorful spring flowers, dive into misty forests , through which we will miraculously emerge in front of a new natural wonder each time, and it will be difficult for us to decide which of the campsites is the most beautiful – either the one in the deep forest, the one on river and lake shores, or the one at picturesque viewpoints that will offer us an unobstructed view of nature's skyline with wonderful sunsets. Eastern Serbia is full of incredible sights such as natural stone arches (some of which we will also visit during the tour), gorges, waterfalls and lakes. Let's treat ourselves to an unforgettable spring trip!
Mehr erfahren...
Tour start
The tour starts in the afternoon of the first day (Sunday, May 14) in the west of the Homolje Mountains, near Despotovac (you will be given a waypoint to navigate to). From our meeting point, we will drive about 30 minutes to our first deep forest campsite, where we will set up camp under tall, towering beech trees, with plenty of firewood for our campfire and a pleasant introductory evening, well hidden from prying eyes.
On Monday we continue along the ridges of the Homolje Mountains in a northeasterly direction. We cross a whole labyrinth of long-forgotten, overgrown forest paths, reach several attractive viewpoints and ride along river valleys before settling down for the night near the highest of the stone arches in eastern Serbia. If weather conditions allow, we can exchange this camp for a camp on a viewpoint that offers one of the most spectacular sunsets in Eastern Serbia.
Moving on…
In the next few days we will visit a beautiful waterfall, as well as the Vratna Valley, unique in the world for its three natural stone arches on the same river! From there, we continue our journey south and reach the lake on Mount Stol. We drive through perhaps the most spectacular 360-degree view in eastern Serbia, surrounded by imposing rocky ridges on all sides.
From there we continue south and finally into the Kučaj Mountains, the largest piece of uninhabited wilderness in Serbia. Of course, a camp in Kovej, the most impressive viewpoint above the magnificent Lazar Gorge, cannot be missed on this tour.
From Kovej we continue south through Kučaj until we reach Vrmdža Lake on the southwest side of Rtanj Mountain, the highest mountain in the area of the Northern Serbian Carpathians (1565 m). After Vrmdža Lake we will settle down in our secret forest hideaway in the middle of one of the largest continuous forest areas in Serbia.
We will slowly close our circle through the Serbian Carpathians, tackling the Kučaj Mountains in a westerly to central direction, visiting all the remaining attractions, fitness permitting – the Grza Spring, the ruins of Petrus and the Crnica Gorge, the Prskalo Waterfall, until we set up camp for the last night in a fairytale forest in the geographical center of Kučaj. Our last half-day tour on Saturday will take us from there to the Beljanica plateau, which is also the highest point we will reach on the tour (1339 m). We expect to reach a paved road shortly after noon on Saturday.
Many of the trails we will be traveling on have long been abandoned, as depopulation in eastern Serbia is progressing at an alarming rate, as the nomadic mountain life of the people in the rural areas is rudimentary and these trails are unused and forgotten.
Since these were mostly used by oxcarts and small, narrow tractors, these roads were never wide and are not now. Therefore, we must expect daily contact with vegetation – if you are not used to this, please consider whether or not this is acceptable to you. It's a great adventure to drive these forgotten forest roads, but it will leave many scratches in the vehicle's paint. If necessary, we recommend to provide the vehicle with a protective film. We are not liable for damage to paintwork that occurs on our tours! Repeaters of our Balkan tours already know what we are talking about.
The weather in Serbia in May is usually already pleasantly warm (sometimes it can even be hot), but May is a season when we should be prepared for frequent, heavy rain showers. While there are exceptions (such as the completely dry May in 2022), statistically May is the wettest month of the year. That's why we recommend MT tires for this tour, because if the weather should be rainy, we'll need plenty of traction on some sections of the muddy forest trails. Our average daily distances will be about 80 km, which can be covered in a relaxed manner on a long spring day, leaving more than 2 hours to set up camp before nightfall.
Accommodation
Our campsites are located deep in the wilderness, sometimes near mountain streams and rivers, far from any sign of civilization. Firewood is abundant, so every evening we have the opportunity to make a campfire, which can also be used for barbecue. We will try to arrive at the campsite by 5:00 pm each day at the latest, so that we have enough time to set up your little nomad paradise and prepare for the night to enjoy the beautiful surroundings to the fullest. We usually leave the campsite at 9:00 am, so we have enough time for a relaxed breakfast and the subsequent packing up of the equipment.
The altitude of the campsites varies between 400 m and 900 m, which means that although it is still quite early in the season, we should have pleasant night temperatures. But bring your warm sleeping bags just in case you need them!
We can replenish our food supplies once or twice during the tour. Preferably once, so we don't have to drive through cities too often. Therefore, we recommend to equip your vehicle with a large capacity / good quality refrigerator so that you can keep your food fresh for several days. On the occasion when we visit the supermarket, we will also have the opportunity to refuel. You should be able to cover at least 250 kilometers on one tank of gas. Every day, depending on the route, we take a lunch break of about 45 minutes between 12:30 and 14:00.
We look forward to ringing in the Balkan camping season with you!
Weniger lesen...
"Serbia's Green Hiding Places"