"Montenegro Highlands"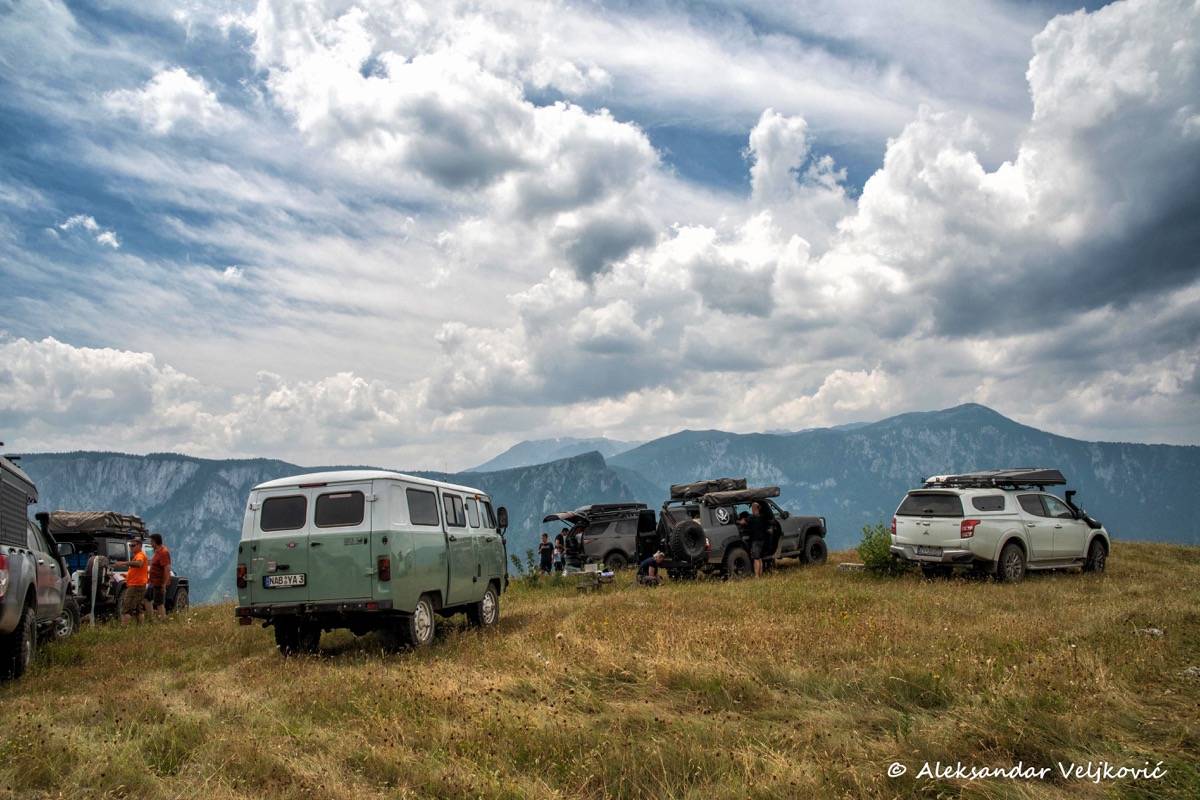 On this off-road trip through Montenegro's breathtaking highlands, we will drive with you some of the most beautiful routes in the Balkans over wild and romantic high plateaus, through deep canyons and untouched forests.
Tour description:
Montenegro – wild, rugged and enchanted gentle at the same time – still original.
We take you on an off-road trip to a largely unknown land of wild beauty.
Breathtaking campsites on secluded lakes give this off-road trip a very individual character. The natural beauty of the Dinaric Alps offers a dramatic contrast between ancient forests, grassy plateaus and alpine cliffs. On this highland route we cross the world-famous Tara Canyon, visit the national parks Durmitor and Bjelasica, Sinjajevina, the largest high plateau in the Balkans (average altitude 1700 m), and visit several lakes of breathtaking beauty. We camp in places of sacred silence and unspoiled nature and see and try the ancient methods of cheese making by Montenegrin hill tribe people. It will be an impressive, overwhelming experience for all the senses!
Mehr erfahren...
The expedition starts in the northern Montenegrin town of Pljevlja, where we will refuel and get our first supplies before we drive around Mount Ljubišnja (2238 m) for some breathtaking views over the Tara Canyon. The first day ends in the official camp near the famous Đurđevića Tara Bridge.
The next day begins with an optional 3-hour rafting tour on the Tara River (not included in the expedition price). If you don't want to go rafting, you can enjoy the scenery around the camp and do some photo shoots of the very attractive bridge, or zipline across the canyon (three different ziplines are available). After lunch we continue to Durmitor National Park, where we visit the most famous viewpoint before we settle in a campsite near Žabljak, the main seat of the national park. Optionally, if there is still time, we can do the 80 km long tour through Durmitor – many fascinating views and two almost 2000 m high mountain passes.
Finally we leave all traces of civilization behind and embark on a three-day, pure wilderness experience in the central part of the Montenegrin highlands. So before we leave Žabljak we have to refuel and refill for the next three days, as there will be no way to do so until we reach Podgorica, the capital of Montenegro, on the fifth day in the afternoon. During a journey of more than 200 kilometers we will never drop below the 1300 m altitude (the average ride height is 1500-1800 m), and our campsites will reach heights of up to 1760 m (so it can be quite cold at night towards the end of September , with occasional freezing temperatures). But it will be worth it as crossing these mountain ranges will likely be the highlight of the tour, both in terms of the beauty of the landscape and the driving pleasure.
After we have replenished and refueled in Podgorica, we meet at a beautiful wild campsite on Lake Rikavac, right on the Albanian border . The last 15 kilometers of access to the lake are really extraordinary, very similar to the most attractive trails in the Western Alps. Day six takes us further to the south side of the Komovi Mountains and ends on Bjelasica, probably the best mountain for cycling tours in Montenegro. In several places on the Bjelasica grass ridge it is possible to reach over 2000 m on wheels, which is normally not possible in the rocky landscape elsewhere in Montenegro.
The next day is entirely devoted to exploring the trails and views of Bjelasica and ends near another exceptionally beautiful lake at an altitude of almost 1800 m. On the eighth day we then take the ridge connection to the north side of the Komovi mountain, before we descend shortly afterwards to the small town of Andrijevica for refueling and refueling. Our path continues to Mokra Mountain, a place where nature was rich in vegetation and where the tree line rises well over 1900 m! We camp at a local nomad settlement at 1750 m altitude, have the opportunity to experience real Montenegrin mountain life with the animals and to try fresh milk, cheese and other local dishes prepared by the shepherds …
During the tour we mostly sleep on beautiful natural campsites in complete wilderness, often near lakes, at altitudes between 1300 and 1800 m, so prepare warm clothes – even in midsummer the nights can be cold at these altitudes. For three days we will be in official camps. Our average arrival time at the campsite is between 5:00 p.m. and 6:00 p.m. and the morning departure time is usually between 8:30 a.m. and 9:30 a.m. Montenegro is a country rich in wildlife (including wolves and bears) but no attacks have been recorded on campers so you can relax. To make camping more comfortable, you should bring folding tables and chairs as well as cooking utensils for food, mobile refrigerator (12 V), etc. In Žabljak there will be a possible bungalow or hotel alternative to camping – we advise the participants of the tour and if you want to interrupt the camping routine for a day, it is possible to spend the night here (not included in the expedition price).
You will receive a GPS track in good time on how to get to the starting point (Pljevlja) from your home town, as well as the phone number of your guide. Please make sure you have travel insurance before starting the tour. We expect you to arrive with a vehicle in good technical condition that can withstand ten days of moderate off-roading. This tour does not require a high level of off-roading experience and skills. There will be parts of the tour where we will not be able to refuel for several days, so you should have a fuel tank (optionally with additional fuel tanks) that guarantees a range of 250 km without visiting a gas station. All major credit cards (Visa, Master, Maestro, etc.) work in Montenegro (either at ATMs or to pay for goods), and the official currency in Montenegro is Euro. It is recommended to have at least a small amount of cash for small expenses in the mountain areas.
The average difficulty of the tour is easy to medium. In practice, this means that most of the time we will be on high quality slopes with only the occasional chance of mud. There will be parts of the rocky terrain where care should be taken not to damage important parts of the subsoil (especially if we take shortcuts completely off-road, it is necessary to watch out for rocks hidden in tall grass). We won't have deep water crossings on our route (so no snorkeling is required). Our operational communication during the tour takes place via CB radio.
We look forward to this ultimate highland tour with you. Let yourself be enchanted by the unique charm of this intoxicating nature.
Weniger lesen...